Our
Story
From humble beginnings,
John Kelly Chocolates has grown to a national brand
that never forgets what's
really important.
In 2004, on a charming street off Sunset Boulevard, we opened a small chocolate factory in Hollywood. Armed with nothing but determination and a recipe for an amazing, gourmet chocolate fudge, we have since turned John Kelly Chocolates into an award-winning national brand sold in high-end department stores, specialty shops, hotel gift shops, grocers – and online. We now make 19 variations on that original recipe, something we call "truffle fudge", along with an array of other products, such as walnut caramel clusters, molded chocolates, salted caramels, chocolate-dipped fruit, and more.
You might be wondering, OK, but how did it all happen? And why on earth did we decide to put our hearts and souls into something like chocolate?
The answer is that both of us, John and Kelly, have lived our lives with an appreciation for creativity and high quality, while at the same time enjoying sharing that creativity and quality with other people. And chocolate works on all of those levels – what else can you do in life that has so much potential to satisfy all of your creativity, while bringing so much pleasure to other people at the same time?
We're also not afraid to experiment, even if it carries a little risk. So when we decided to try our hand at owning a business years ago, we looked around at the chocolate that was widely available and knew we could do better. We knew the American palate was becoming more sophisticated, but where was the sophisticated chocolate? Or maybe more to the point – where was the sophisticated chocolate that was actually delicious, unique and more than just pretty to look at?
Then Kelly remembered an amazing fudge that his mother would make at home when he was growing up. It was a humble family recipe but incredibly delicious. What if it could be transformed into something truly spectacular, by improving the ingredients, experimenting with cook times, and creating multiple flavors? So an American classic was reborn as a fine chocolate.
We took a deep breath and quit our jobs. Because we knew it would take a lot of work to turn a great family recipe into John Kelly Chocolates. We experimented with different flavors, we looked at all shapes and sizes, we designed packaging that we thought was worthy of something so special.
They say if you don't try, nothing will happen. So we gave it a try, and luckily something did happen. People seemed to agree with us, that truffle fudge truly is the best chocolate they've ever tasted. And they appreciate that it's presented as a fine chocolate – which it is – in packaging that's perfect for the luxury contained within.
Over the years, as we have grown, we have never strayed from our original values of creativity, quality, a sense of experimentation, and wanting to share it all with everyone we know. Even though we are now sold nationwide and have been recognized in numerous ways, we still try just as hard to bring you something special:  the world's best chocolate.
Features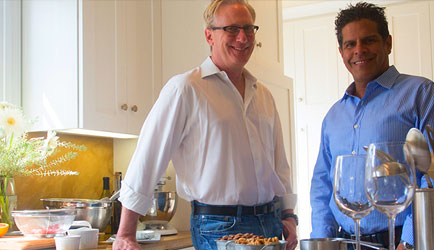 You May Think There's A Guy Named John Kelly
Who Started It All. A Lot Of People Do.
But it's actually two guys named John and Kelly. We have complementary qualities, sort of like yin and yang. But we're the same in one way – we have a passion for our product and for always keeping it special.

Allow Us To (Modestly) Share Some Of Our Accolades. We Appreciate Every Single One.
We have been featured in the media all over the country, and been the lucky recipient of some prestigious awards. We're proud of the recognition, and work hard to deserve it every single day. Here are a few showcase features.
If Your Guy Really Loves Chocolate...
---
Why not make it John Kelly? After all, it's named after two guys...
who really love chocolate.