Selling
John Kelly
Wholesale
Interested in becoming
a wholesale account for
John Kelly? Read on.
We are happy to discuss a wholesale arrangement with any appropriate retailer. Feel free to contact us at 1-800-609-4243 or  wholesale@johnkellychocolates.com.
We offer a number of products developed especially for wholesale customers.
Single Bar POS Boxes for Grab-and-Go
These POS boxes are the perfect way to offer our truffle fudge as a grab-and-go impulse item. Packaged for individual sale, each bar has a flavor label on the top and an ingredient label with UPC on the bottom.
The bright gold foil that we wrap around each luscious bar catches the eye, and the generous size is hard to resist.
Each display box contains one flavor of truffle fudge. It's a simple, yet elegant, display that offers golden nuggets of pure chocolate pleasure. Available in many flavors.
Bulk Chocolate Bars
We offer all of our bars as a bulk item for retailers who wish to sell them in a candy case. Each comes individually packaged in a high-quality candy cup.
Bulk bars come in cases of 12 and are shipped in protective packaging.
For all wholesale orders, minimum order applies. Please call or email for wholesale pricing on these or other products.
Features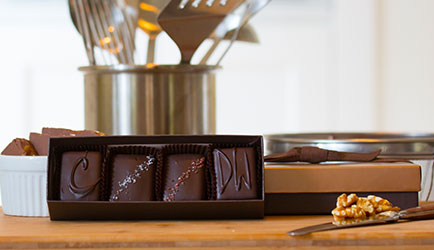 From Humble Beginnings To A National Brand.
But We Never Forget What's Really Important.
In 2004, we opened a small chocolate factory in Hollywood. All we had was determination and a recipe for an amazing, gourmet chocolate fudge. Now we are a national brand, but we still work hard every day to make products that are unique and special.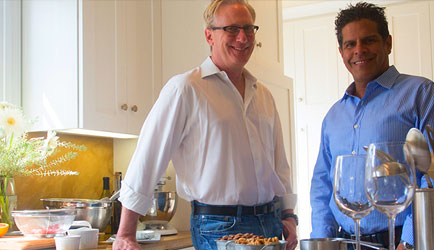 You May Think There's A Guy Named John Kelly
Who Started It All. A Lot Of People Do.
But it's actually two guys named John and Kelly. We have complementary qualities, sort of like yin and yang. But we're the same in one way – we have a passion for our product and for always keeping it special.
10% Off Your First Order
Simply enter your email here and look for an email with a code to use on your first order.