Shipping
Free Ground Shipping Deal 
Receive free ground shipping when you spend $75 or more for an order on merchandise (During warmer months, AZ, CA, ID, NV, or UT only). Minimum purchase applies to merchandise only. This deal cannot be combined with any other promotions, discounts or corporate orders. Please remember that FedEx delivery dates are not guaranteed. We recommend planning for an additional 2-3 business days of shipping time.
Payment Methods
We accept MasterCard, VISA, American Express, Discover, Afterpay and Paypal. If you would prefer to place an order over the phone, please call us at 800-609-4243. We are not able to accept personal checks.
General Shipping Information
All shipments originate from our factory in Hollywood, California. We ship to locations within the 50 United States. For shipments to Alaska and Hawaii, please call 800-609-4243 for rates. We cannot ship to P.O. Boxes or APO/FPO addresses. Please provide a physical address.
Our standard shipping is FedEx Ground, which usually arrives within 1-5 business days after processing depending on the shipment address, and processing could take an additional day after you place the order (see below). Note that for shipments going to California, Nevada, Utah, Arizona and some other western regions, the shipment may arrive within 1-2 business days after processing. We also offer 2nd Day Delivery and Overnight Delivery for an additional charge (see below). During hot weather we may deem it necessary to ship your order in an insulated container with ice packs at no additional cost to you.
It is important to know that FedEx Ground shipping does NOT guarantee a delivery date. If there are weather delays, transportation delays or high volume periods, FedEx Ground shipping may be delayed beyond the standard amount of time it would normally take. If you select Ground shipping, we therefore cannot guarantee a specific arrival date. If you need a guaranteed arrival date, please upgrade to 2nd Day Delivery or Overnight Delivery. Please note the other issues that can affect the ship date (such as warm weather), by reading below, and do not hesitate to call us if you want more information for a specific arrival date.
We will attempt to ship your order the same day it is received, but there will be times when we will need one business day to enter and process the order. In those cases, the order will ship on the next available shipping day, given other factors such as warm weather or high volume periods, which could further delay the order. Please contact us if you require a specific arrival date for your order. Expedited shipping is also available. Note that for orders over $500 we may require an additional day of production, which could delay the ship date.
Our standard shipping days are Monday, Tuesday and Wednesday. We will ship on Thursday or Friday via FedEx Ground if our assessment of the weather in transit is such that the package should arrive in good condition. We will hold orders placed for FedEx Ground if hot weather requires a different ship date in order for the product to arrive in good condition. Expedited shipping is always available if timing is important – please call us at (800) 609-4243 if you have any questions.
You will receive an email notification from FedEx that your order has been shipped if you have provided us a valid email address. You can track your order via FedEx by clicking here once you have the tracking number.
No signature will be required at the time of delivery, but if no one is available to receive the package, it is the discretion of FedEx to leave the package or not. We are not responsible if someone signs for the package and the package does not reach its final recipient.
If we receive an incorrect shipping address, we cannot be responsible for the shipping costs involved or any additional costs associated with rerouting the package. Please note that incorrect order information could also result in a delay of your shipment, since we will need to contact you to inquire about the error. An additional handling charge may also apply, as well as the cost of replacing the order if the product is damaged.
Shipping Costs (During Warmer Months Exclusive to AZ, CA, ID, NV, or UT)
| Merchandise Total | Ground |  2nd Day | Overnight |
| --- | --- | --- | --- |
| up to $40.00 | $9.95 | $20.00 | $31.95 |
| $40.01-$75.00 | $13.95 | $20.00 | $32.95 |
| $75.01-$100.00 |   Free | $20.00 |  $35.95 |
| $100.01-$120.00 |    Free | $20.00 |  $38.95 |
| $120.01-$200.00 |    Free |  $20.00 | $40.95 |
| $200.01-$300.00 |   Free |  $20.00 | $42.95 |
| $300.01 and over |    Free | 12% of net | 15% of net |
Shipping Costs (Warm months– outside AZ, CA, ID, NV, or UT)
| Merchandise Total | Ground |  2nd Day | Overnight |
| --- | --- | --- | --- |
| up to $40.00 | $9.95 | $18.00 | $31.95 |
| $40.01-$75.00 | $13.95 | $18.00 | $32.95 |
| $75.01-$100.00 |   Free | $18.00 |  $35.95 |
| $100.01-$124.99 |    Free | $18.00 |  $38.95 |
| $125.00-$200.00 |    Free |  Free | $40.95 |
| $200.01-$300.00 |   Free |  Free | $42.95 |
| $300.01 and over |    Free |  Free | 15% of net |
You may cancel or change your order if it has not yet been shipped. Please call customer service at 800-609-4243.
If you are unsatisfied with your order for any reason, please contact us by email or call customer service at 800-609-4243.
Customer service hours are Monday through Friday, 9:00 am-5:30 pm Pacific time, except for holidays.
Picking Up Your Order In-Store
In order to pick up an order in one of our boutiques, you will need to place the order with us directly. Please contact us at 800-609-4243 or email us at service@johnkellychocolates.com with your order.
Features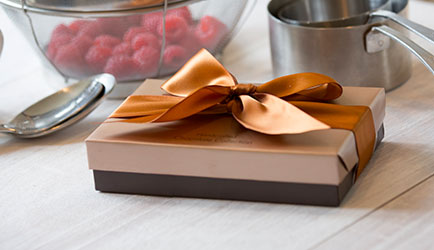 Clients? Customers? Colleagues? Employees?
They All Love John Kelly.
Perhaps you need to show your appreciation in a special way, or perhaps you just want to add a touch of elegance to make an even better impression. One thing is for sure: when you give them John Kelly Chocolates, they'll notice.

Allow Us To (Modestly) Share Some Of Our Accolades. We Appreciate Every Single One.
We have been featured in the media all over the country, and been the lucky recipient of some prestigious awards. We're proud of the recognition, and work hard to deserve it every single day. Here are a few showcase features.
Holiday Shopping?
Look No Further.
---
You can find something for everyone on your list here
on our site. They'll be glad you did.
10% Off Your First Order
Simply enter your email here and look for an email with a code to use on your first order.