Frequently
Asked
Questions
Who is John Kelly?
He's actually two people, and you can read about them here.
How did the company get started?
You can read all about it here.
Where can I find the closest location to buy John Kelly?
Contact our customer service and they will be happy to assist with this. You can email us anytime  at service@johnkellychocolates.com, or you can call us at 1-800-609-4243,between the hours of 9:00 and 5:30 Pacific time Monday-Friday.
Where is the factory located?
Believe it or not, in Hollywood, CA. You can read more here.
How can I work at John Kelly?
We are always looking for people who have a passion for chocolate and creating incredible products for people to enjoy. If you are interested in joining us, please email us at service@johnkellychocolates.com.
Are John Kelly's products truffles?
No, but you may think they taste like a truffle. It's a unique recipe for something we call "truffle fudge" because of its consistency and taste. Find out more here.
What is the lead time for a big order?
It depends on several factors, including time of year, level of customization and our production schedule. We make every effort to meet your deadlines as much as possible.
Can I customize my product with my own logo or artwork?
We do not make customized pieces of chocolate, but we do have options for customizing our packaging, which you can find out about here.
What is your privacy policy?
Our complete privacy policy is located here.
What security measures are in place for my financial information?
We work hard to make sure your financial information is as secure as possible through a secure server ordering system. Your information is always transmitted in an encrypted code via Secure Socket Layer (SSL).
Which methods of payment do you take? 
We accept VISA, MasterCard, American Express, Discover, and PayPal.
How do I contact customer service?
You can email us anytime by at service@johnkellychocolates.com, or you can call us at 1-800-609-4243, between the hours of 9:00 and 5:30 Pacific time Monday-Friday.
Can I cancel an order?
If your order has not been shipped, you can cancel it by contacting us directly. There are some instances, for example with large orders, where cancelling an order will not necessarily result in a refund. If you call us at 1-800-609-4243 between the hours of 9:00 and 5:30 Pacific time Monday-Friday, someone will assist you. Otherwise, please email us at service@johnkellychocolates.com.
Are your products organic or natural?
Our products are not certified organic, but they contain all natural ingredients.
Are all of your products gluten-free?
Yes, except for our Shortbread Cookie.
Do you use corn syrup in your products?
No.
Is John Kelly Chocolates kosher?
Our products are all certified kosher dairy by KSA. Our products are not certified for Passover use.
Does your chocolate include nuts or dairy products?
Most of our products include dairy. Some include nuts, such as walnuts, almonds and peanuts. Please be aware that even our products without nuts can come in contact with nuts in our factory, and necessary precautions should be taken.
What is the best way to care for John Kelly Chocolates?
Our products should be stored and served at room temperature (68-70 degrees F) in a dry environment, avoiding moisture and humidity. If you are using refrigeration, the products should first be placed in sealed plastic bags, especially if the refrigerator is not humidity-controlled. Products that are topped with salt should not be refrigerated or stored below 68 degrees F.
Does John Kelly Chocolates accept wholesale accounts?
We are more than happy to discuss a wholesale arrangement with any appropriate retailer. Feel free to contact us at wholesale@johnkellychocolates.com or 1-800-609-4243.
How do you ensure that my order will arrive in good condition?
We make every effort to ship our products as carefully as possible so that they can be enjoyed the way you intended. Depending on temperature, shipping method and transit time, we will use cold packs and/or insulated containers to ensure your order arrives in good condition. Note that there may be additional cost associated with these precautions.
How do I check the status of my order?
We ship via FedEx, which has a sophisticated tracking system you can access here. You will need your tracking number in order to check your order's status.
Will I receive an email confirming my order?
You will receive two emails after you place your order: the first is sent by us, shortly after you place the order, confirming that we have received it. The second is sent by FedEx once your order has been shipped.
What is my credit card verification number and why do you need it? 
The credit card verification number is a three-digit number on the back of your card in the signature strip (for MasterCard, VISA and Discover), or a four-digit number on the front of your card above your account number (for American Express). We ask for this number in order to provide you with an additional level of security, in the event that your card number is being used fraudulently.
Features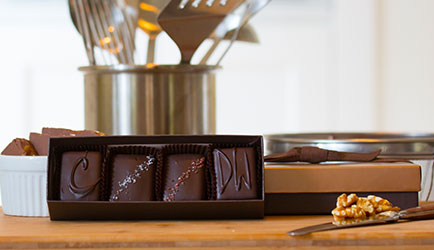 From Humble Beginnings To A National Brand.
But We Never Forget What's Really Important.
In 2004, we opened a small chocolate factory in Hollywood. All we had was determination and a recipe for an amazing, gourmet chocolate fudge. Now we are a national brand, but we still work hard every day to make products that are unique and special.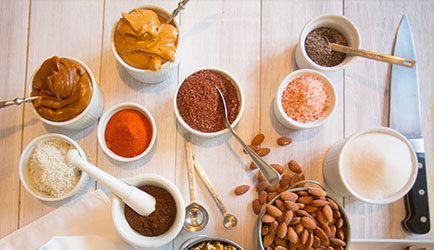 We Combine The Best Ingredients
To Ensure You Get The Best Chocolate Experience
It's an alchemy that happens almost like magic, due to our proprietary recipe and our special way of bringing everything together. And it makes for a truly unique taste experience. Don't you think you owe it to yourself to give it a try?
Try Our Dark Chocolate Bourbon Gift Box
---
Infused with real Kentucky straight bourbon.
10% Off Your First Order
Simply enter your email here and look for an email with a code to use on your first order.