Our
Hollywood
Boutique
LOCATION
1508 N. Sierra Bonita Ave.
Hollywood, CA  90046
(323) 851-3277
> Directions
Monday-Saturday    10am – 6pm
Sunday                     CLOSED
**Holiday Hours**
Thanksgiving 11/24: CLOSED
Christmas Eve 12/24: 10am-4pm
Christmas Day 12/25: CLOSED
New Year's Eve 12/31: 10am-4pm
New Year's Day 1/1: CLOSED

This is where it all began. The John Kelly factory in Hollywood was running full-tilt for years, making incredible chocolates to be sold in finer stores all over the country. But when people walked by and smelled the aroma of just-made truffle fudge, they started wandering in to ask if they could have a taste – or if we had any they could buy. We finally realized we should open a store to keep the neighborhood happy, so it's here, on a side street, just steps from the Sunset Strip.
We invite you to drop by for a sample, a friendly smile and of course a complete array of John Kelly Chocolates products. We'll make a custom box for you if you like, and you can watch the factory at work while we assemble it, since the kitchen is visible through glass doors. And if you're lucky, you might see someone you recognize picking up their John Kelly, since we have lots of actors, directors, producers, musicians and other creative types who think of us as their favorite chocolate shop.
Features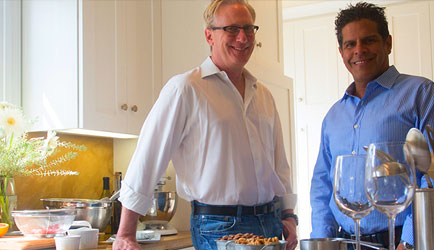 You May Think There's A Guy Named John Kelly
Who Started It All. A Lot Of People Do.
But it's actually two guys named John and Kelly. We have complementary qualities, sort of like yin and yang. But we're the same in one way – we have a passion for our product and for always keeping it special.

Allow Us To (Modestly) Share Some Of Our Accolades. We Appreciate Every Single One.
We have been featured in the media all over the country, and been the lucky recipient of some prestigious awards. We're proud of the recognition, and work hard to deserve it every single day. Here are a few showcase features.
Thinking Of Getting Her Some Chocolate?
Smart Thinking.
---
She's worth a box of John Kelly Chocolates - and more.
We're here to help you take care of the John Kelly part.
10% Off Your First Order
Simply enter your email here and look for an email with a code to use on your first order.