Volume
Discounts
We offer volume discounts to companies that place larger orders.
For an overview of our corporate gift program, including special holiday discounts, download our program guide here:
Please note that the discounts apply to merchandise only, and do not apply to items on sale or already discounted. Please call us at 800-609-4243, or contact us at service@johnkellychocolates.com if you have questions or would like to place an order with a volume discount.
Customization
We also offer customization options:
Features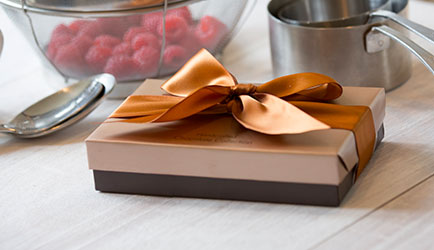 Clients? Customers? Colleagues? Employees?
They All Love John Kelly.
Perhaps you need to show your appreciation in a special way, or perhaps you just want to add a touch of elegance to make an even better impression. One thing is for sure: when you give them John Kelly Chocolates, they'll notice.

Allow Us To (Modestly) Share Some Of Our Accolades. We Appreciate Every Single One.
We have been featured in the media all over the country, and been the lucky recipient of some prestigious awards. We're proud of the recognition, and work hard to deserve it every single day. Here are a few showcase features.
10% Off Your First Order
Simply enter your email here and look for an email with a code to use on your first order.