Customization
We have several ways to make it easy for you to customize our products, including custom-printed ribbon and wraparound sleeves.
For an overview of our sleeve and ribbon customization, download our customization guide here: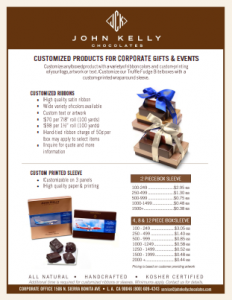 Ribbon Options
We can customize any product with a hand-tied satin ribbon, available in all the colors you see here: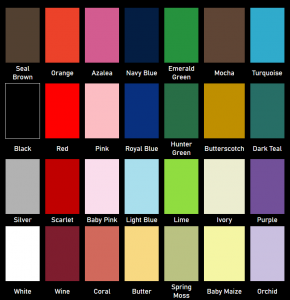 We can also print text on satin ribbon, up to 37 letters and spaces, or a logo up to 5" wide and 5/8" tall. Customized text requires a lead time of approximately 2 weeks, and customized logo art requires a lead time of approximately 3 weeks. We can sometimes accommodate a faster turnaround time with rush charges.
Sleeve Options
Many of our products have a wraparound sleeve, and we can custom-print the sleeve for those products with your custom information. Your company name or event can be printed on the front of the sleeve, and we will supply nutrition and ingredient information for the back. Minimum quantities apply, but we are able to accommodate fairly small numbers with adequate lead time.
For all of our customizable options, additional charges and time are required. Please call us at 800-609-4243, or contact us at service@johnkellychocolates.com with the details of your order, and we will be happy to explain the costs, timing and artwork specifications.
Volume Discounts
We also offer volume discounts for custom orders:
Features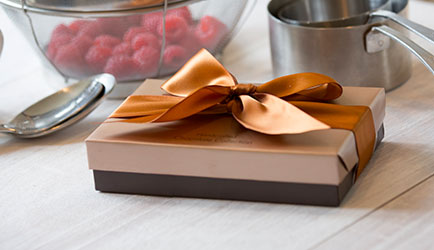 Clients? Customers? Colleagues? Employees?
They All Love John Kelly.
Perhaps you need to show your appreciation in a special way, or perhaps you just want to add a touch of elegance to make an even better impression. One thing is for sure: when you give them John Kelly Chocolates, they'll notice.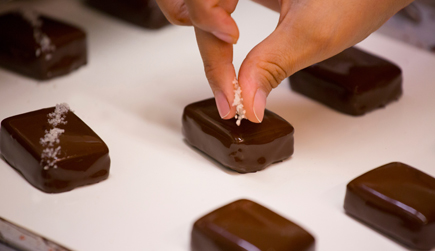 Our Products Are Hand-Made With Great
Attention To Detail
Our specialty is exceptionally delicious chocolates. We use all-natural, premium quality ingredients, and make everything in small batches. But it's really the level of detail and hand craftsmanship brought to every single piece that makes the difference.
10% Off Your First Order
Simply enter your email here and look for an email with a code to use on your first order.